About Us
Harrisonville Church of the Nazarene, or Harrisonville "Naz", is a group of compassionate disciples who passionately desire to know Christ, become more like Him, and compassionately reach to our community. We hope you will join us in unleashing unprecedented Good News in these unprecedented times.
OUR VISION…
…is to be a Shepherd/King Prophet Church.
OUR MISSION…
 …is to make Christ like followers of Jesus one heart, one home, one community at a time for Christ's glory.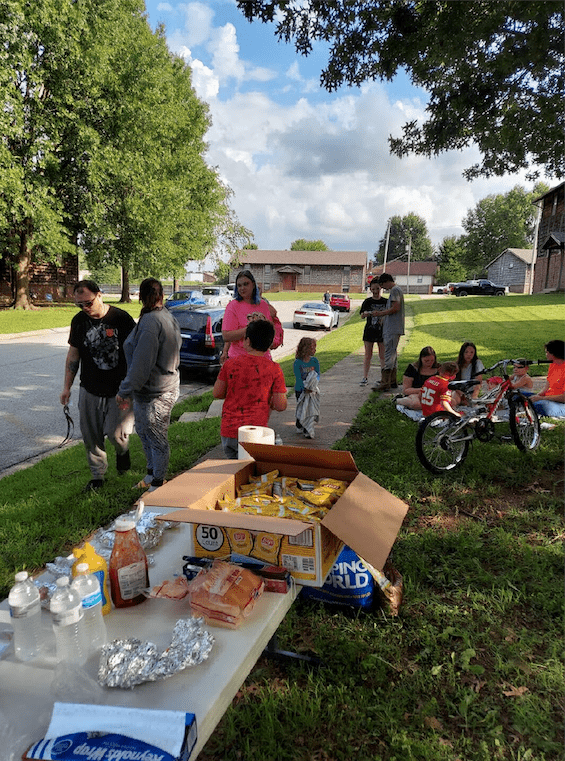 OUR BELIEFS
These are the beliefs we hold to be true in the Church of the Nazarene:
BELIEFS
These are the beliefs Nazarenes hold to be true:
We believe in one God—the Father, Son, and Holy Spirit.
We believe that the Old and New Testament Scriptures, given by plenary (complete) inspiration,
contain all truth necessary to faith and Christian living.
We believe that man is born with a fallen nature, and is, therefore, inclined to evil, and that
continually.
We believe that the finally impenitent (those who do not repent of their sins and trust in Christ
alone) are hopelessly and eternally lost.
We believe that the atonement through Jesus Christ is for the whole human race; and that
whosoever repents and believes on the Lord Jesus Christ is justified and regenerated and saved
from the dominion of sin.
We believe that believers are to be sanctified wholly, subsequent to regeneration, through faith in
the Lord Jesus Christ.
We believe that the Holy Spirit bears witness to the new birth, and also to the entire
sanctification of believers.
We believe that our Lord will return, the dead will be raised, and the final judgment will take
place.
For more information on what we believe, please visit www.nazarene.org/articles-faith
MARKS OF A SHEPHERD/KING PROPHET CHURCH
COMPASSION– God's people are called to act justly, love mercy, and walk humbly with the Lord our God (Micah 6:8). We will seek to love people as Jesus loved them and meet the physical, mental, and financial needs of people as we are able and prompted by the Spirit. We will also seek to be strategic and intentional in these areas by reaching out to the marginalized in our community and the world.
IRRATIONAL GENEROSITY AND SIMPLICITY– As an antidote to our consumer minded society we will seek to follow the guidance of John Wesley who said, "Earn all you can; give all you can; and save all you can." We believe as Paul says, "God loves a cheerful giver." (2 Cor. 9:7)
PERSONAL HOLINESS– Holiness is Christlikeness. Peter admonishes believers with these words, "But just as He who called you is holy; so be holy in all you do. For it is written, 'Be holy, because I am holy." (1 Peter 1:15-16) Therefore, we will encourage and partner with our members in a passionate pursuit of holiness, or Christlikeness.
AUTHENTICITY– As people created in the image of God, we all desire to know and be known. Yet, because of the Fall, we resist what we desire and need most. We will seek to foster environments where people can be authentic and real with one another. (James 3:13-17; Hebrews 10:24-25)
MISSIONAL OUTREACH– Jesus commands His disciples, "Therefore, go and make disciples of all nations, baptizing them in the name of the Father, and of the Son, and of the Holy Spirit; and teaching to obey everything I have commanded you. And surely, I am with you always to the very end of the world." (Matthew 28:19-20) We will call, partner with, and equip to engage enthusiastically in the Great Commission.
CORPORATE PRAYER AND WORSHIP– We are created for a relationship with God. Prayer and worship are vital means of grace in this pursuit. However, we need not only private prayer and worship, but corporate expressions of both as well. Act 13:1-3 is a wonderful expression of the kind of worshiping community will seek to become.
PERSONAL SPIRITUAL DISCIPLINES- Personal prayer, Bible study, and fasting are tried and true of means of deepening our relationship with Christ and becoming more like Him. We will seek to partner and equip all members of HCN into a meaningful expression of these vital spiritual practices and means of grace.